Matt Treacy writing in Gript finds the Chinese making a claim that Sinn Fein seems silent about.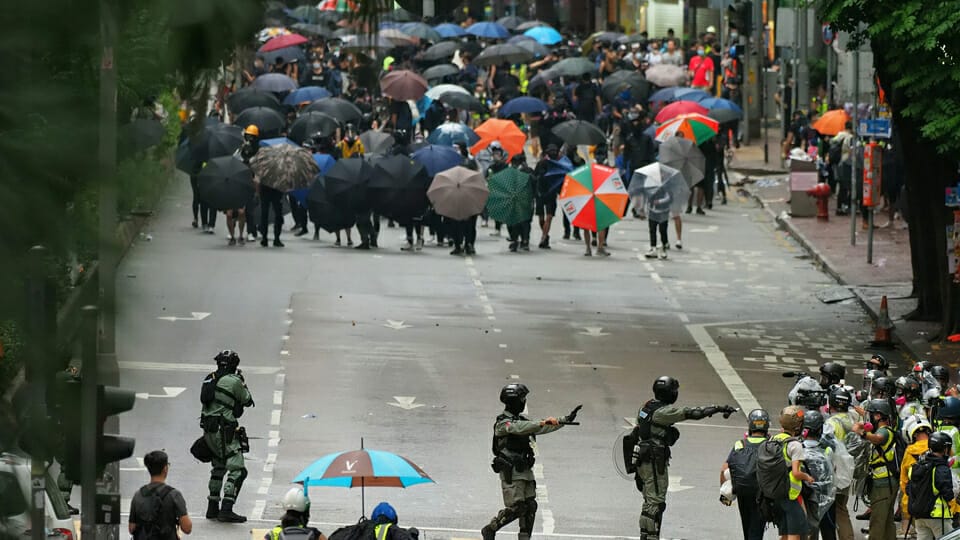 Photo credit: Etan Liam: Thousands of Hongkongers march in
defiance of anti-mask law, despite metro shutdown, heavy rain, tear gas
The municipal election results in Hong Kong at the weekend, in which the pro democracy anti-Communist candidates took 90% victory of the seats, have been widely acclaimed as a victory for pro-democracy demonstrators seeking to resist further encroachments on their freedoms from Beijing.
Many western governments and political leaders have voiced their support and Donald Trump has issued several warnings against a feared crackdown by a regime that appears once more embarked on a systematic and brutal suppression of internal opposition, most notably the mass internment of the Uigyir Muslim ethnic group.
However, the Chinese embassy in Ireland has claimed that Sinn Féin has thanked the Chinese ambassador for his clarification of the protests in China, and wished Hong Kong "back to the right track as soon as possible."
The Hong Kong protests began in March over the introduction by the puppet administration of a bill that would allow Hong Kong residents to come under the brutal mainland communist judicial and penal system that holds millions of slave labourers in camps and factories and subjects prisoners to torture and "re-education".
Sinn Féin protested the extradition of Irish republicans to Britain and Northern Ireland for many years. When the party's spokesperson on Foreign Affairs, Seán Crowe TD, met with the Chinese Ambassador to Ireland, He Xiangdong, in August, a week after a general strike had been met by police brutality, it was expected that opposition to the crackdown and proposed extradition bill would be raised.
The Chinese embassy's report seems to indicate otherwise. The embassy said: "As a major political force in Ireland, Sinn Féin party plays a positive role in promoting peace and development of Ireland. Mr. Crowe said Sinn Féin values Ireland-China relations and is committed to pushing bilateral relations to a new level.
They revealed that Ambassador had briefed Mr. Crowe on the situation in Hong Kong. The Ambassador described the demonstrations as "so-called peaceful protests" which had "turned into violent crimes". He claimed that the movement for freedom was undermining the "one country, two systems" system imposed by the Chinese authorities, and said he hoped Irish politicians could "view the situation in Hong Kong from a objective and accurate perspective".
The Embassy said that Mr. Crowe thanked the Ambassador for his clarification and wishes Hong Kong back to the right track as soon as possible.