Sean Lynch was left with serious injuries after self-harming in Northern Ireland prison when his mental health deteriorated 
Henry McDonald in Derry with a harrowing story detailing the experience of a young Derry man trying to survive in the face of a callous prison regime in Maghaberry.
It featured
in The Guardian on 19 August 2014 and is reproduced by TPQ with the permission of the author.
In June this year, Sean Lynch, 23, was on remand at Maghaberry prison outside Belfast for breaching an order banning him from going near a former girlfriend. His family say he became deeply depressed and frightened. Sometime on the night between 2 and 3 June, he self-harmed, inflicting wounds to his wrists and throat.

Medical orderlies attended to his injuries and instead of sending him to an outside hospital he was returned to his cell.

His father, Damien Lynch, said that after the incident he went to see Sean and was promised by the prison authorities that they would watch over his son, who had no history of mental illness before going to prison.
Actually, even before Sean inflicted these injuries, the mental health nurses at the jail phoned me to say they were very worried about him. Then the nurses told me he was moved away from them into a cell again. Sean was able to phone me from the jail and he was down and deeply depressed. He was very distressed, calling me to bring up a protest and claiming 'they were going to kill me' in the jail.

On Wednesday, 4 June, I went to see him with his grandfather and he looked like something from a concentration camp. He was gaunt, bruised, shivering and unfit even for the visit.
That night Sean, a former
Northern Ireland
football youth international player, injured himself again, leaving more sustained wounds, and was rushed for treatment to Craigavon Area hospital where he was kept over night.
The first time I found out that this had happened was when Sean came back from the recovery ward and he was able to phone me on his mobile.

He told me what had happened and when I asked why, Sean said, 'because of the rat poison they were putting in my food, dad.' He was clearly very mentally sick as well as suffering from these terrible injuries.
Sean's parents said they were astonished to learn that instead of letting him stay in hospital, staff took him back to Maghaberry.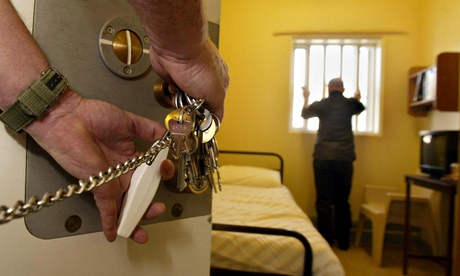 A cell in Maghaberry maximum security prison, Northern Ireland. Photograph: Paul Faith/PA
Sean was then moved into a cell that was supposed to be watched via a 24/7 monitoring station, they said.

On the Thursday night Sean phoned his father and cryptically told him: "I will always remember your big blue yes, Da." At 4am the following morning Lynch received a phone call to inform him that Sean was now in the Royal Victoria hospital in Belfast because he had lost the sight in his left eye.

Despite the fact that he was supposed to be under 24-hour surveillance, Sean had been able to inflict such damage to his eyes that he is now permanently blind.

His parents say that a representative of the International Red Cross, which looked into their son's experience inside Maghaberry prison, has told the family that he had not seen anything like what happened to Sean in a European jail for more than 40 years.

His mother, Terri Johnstone, said:
Sean went into that prison as a 23-year-old man who cycled every day, went to the gym and still played football. Then you go up to the Royal Victoria hospital and you see him with shields over his eyes, totally dependent on others for the rest of his life. While he is safe with us he will never be the same.
His family say they have no faith in any internal investigation by the prison service or Department of Justice. Sean's parents are now asking for a full independent inquiry into how their son was allowed to harm himself inside Northern Ireland's maximum security prison.
The Guardian
has sent a list of questions to the DoJ in Belfast about the case but so far has received no answers about the circumstances surrounding his injuries. Shortly after the incident in June a spokesman for the
prison service
said:
The prison service has asked the prisoner ombudsman to investigate. Until that independent investigation is completed it would be inappropriate to comment.
Meanwhile, Sean – who once had trials with Manchester United and Newcastle – said:
I will never see my loved ones again and they are just in front of me … I just kept asking over and over again for help and no one seemed to care. They let me go into a dark place and I'll never be able to get out of it.
To contact Samaritans, call 08457 90 90 90
Share This: