It is no bad thing to be a able to spot a religious whack job and then take whatever evasive action to steer well away from them. They are the type likely to thrust rosary beads in the face of women marching for rights or bore bystanders stupid with religious rants as they angrily prowl areas of enjoyment in sandwich boards insisting on handing out some happy-hating tract.
There are a few
giveaway signs
for identifying the type. Unfortunately, they were not enough to ward off Thursday's knife attack in Jerusalem when a theocratic fascist ran amok at a Gay Pride parade, seeking to murder those who would not live their lives as he demanded they should. He survived the ordeal and was arrested. Had he been wearing a Muslim thobe rather than the attire of the Jewish Orthodox, he would most likely have been shot dead by police.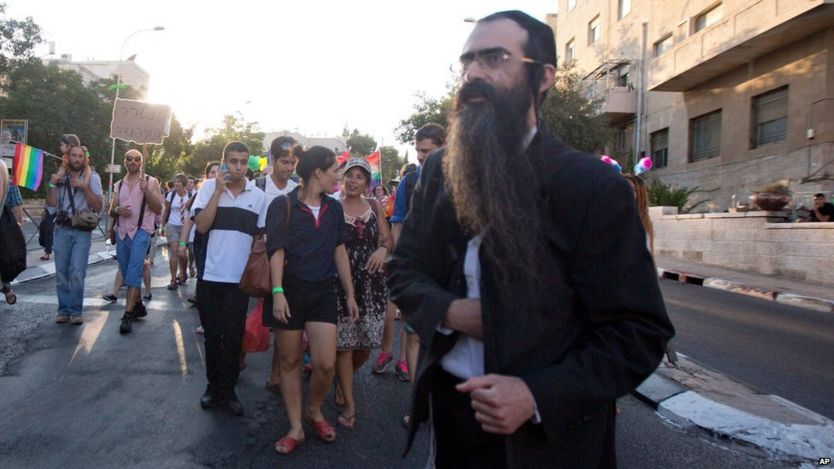 Religious whack job Yishai Schlissel (photo BBC)
One of the more ostensibly positive aspects of Israeli society in comparison to the states in its proximity is the ability of gay culture to flourish. Gays are not hanged from cranes as they
sometimes are in Iran.
Although we would be well advised not to fetishize the tolerance of gays or "
pinkwashing"
on the grounds that it is:
a rhetorical strategy that deploys Israel's supposed enlightenment toward LGBTQ issues to deflect criticism from Israel's human rights abuses and war crimes.
Whatever the difference between Israel and its neighbours in terms of enlightened values, as can be seen from Thursday's rampage if the men of god were to get their way it would be negligible. As Jerusalem is more religiously insane than Tel Aviv the gays are not just as welcome there because as every good god-fearing, devil-hating believer knows, god hates fags and hates them even more when they blaspheme in "
the city of the king
," They also know that god is on their side because he hates the same things they hate. Religion is something of a hate industry manufacturing copious quantifies of the toxic brand.
On the subject of hate, an emotion deeply embedded in the religious psyche, some of the young people who witnessed Yishai Schlissel's knife attack
spoke of the hatred
on the maniac's face. The religious fascist had just been released three weeks earlier from prison where he had served a ten year sentence for ... stabbing people at a gay parade. In 2005
he told police
who arrested him that "I came to kill in the name of the lord." Two weeks prior to his latest religious lunacy
he wrote
:
It is incumbent upon every Jew to risk beatings and imprisonment ... to come together to stop and reverse the blasphemy in the name of the almighty, may he be blessed.
Whatever his shortcomings in the sphere of tolerance and diversity he has to take maximum marks for his unalloyed commitment to hating. People like him ensure religion fails to conjure up images of love. Created in the image of their maker, they
hate with a perfect hatred.
Spreading god's hate (Photo BBC)
Share This: